6 Google SEO Secrets to rank as a Builderall Affiliate
This landing page is aimed ONLY at Builderall Affiliates that want to create a Builderall website, promote the Builderall affiliate program and offer Free Trials. The complete guide here is for Builderall affiliates that want to promote their websites organically through Search Engine Optimization (SEO). So continue reading and implement only if this is your objective
6 steps system to build an SEO Builderall affiliate landing page will drive high-quality organic traffic that will be interested in Builderall free trials.
The builder affiliate program is one of the best affiliate programs online right now. If you would like to give it a go and earn money online and create passive income streams without investments, SEO is a good way to go. If you are looking for ways to make passive income online, you must read this full search engine optimization (SEO) resource list.
The article will not only give you only instructions on how to build your landing page but will also give you valuable keyword research that you must use in your money-making website.
In order to be sure that this is the course of action you want to go, I will suggest you to go online and read Builderall reviews, then best try Builderall FREE TRIAL.
In the 7-day free trial, you can accomplish a lot, but only if you prepare yourself in advance by reading this long step-by-step money-making guide.
In order to show you that this is a proven method to make passive income, I will share with you my builderall affiliate earnings this year.
Screenshot of my Builderall affiliate account – As you can see, I now have 57 active paying accounts and another 7 paying accounts that my builderall affiliates sold:
Screenshot -Builderall affiliate program – More than $8,000 in income in less than a year:
As you can see up here, I made already a lot of passive income using my digital marketing skills. Search engine optimization techniques and digital marketing take a long time to learn. Here is your chance to learn everything I know in under 10 minutes of reading time. It took me around 7 years to learn everything about the best search engine optimization practices for google. In some of the keywords that I use, my website ranks on the first google page. You can do the same – just follow this proven system.
The SEO 6-step system is for entrepreneurs that have patience and will target users by keyword choice on google, bing, and yahoo. This is a proven method to build an SEO builderall affiliate website that makes money online without investments.
The best proof that the 6 SEO secret affiliate funnel works are that you are here on this landing page receiving real value. But I want to remind you because you chose a way to make money online with no investments, it will take more time and know-how to achieve your goals. You are competing with many other websites for keywords. In order to bring you to the first google page and rank within the first 10 results, you will need to use my complete SEO affiliate secret resource list.
>> 7 Steps SEO Builderall Guide To Rank Your Builderall Website On Google
Here is the full 6-step SEO resource list to build the Builderall website and promote the builderall affiliate program organically
Step number 1 – Keyword research
The first crucial step that will be the basis for all the SEO process is thorough keyword research. I use a tool that is called keywordtool.io to find the words users are searching for online and then use the same relevant keywords in the text I am writing. I saved you the costs of the keywords tool that I am using and saved you more than 5 hours of work in order to give you real value in this money-making blog.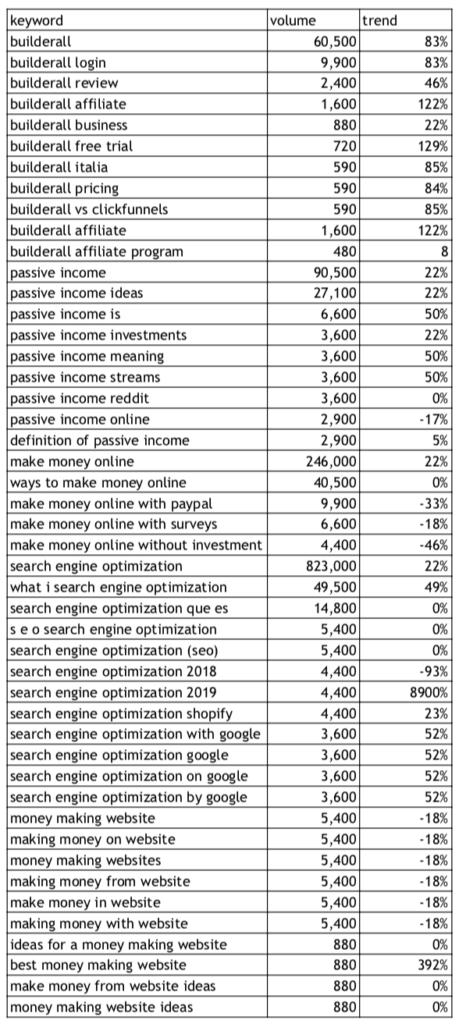 Step number 2 – Writing SEO texts
In this stage, you have a few objectives; create a message for your targeted audience, show that you are an expert, and make use of the keywords above. Google prefers texts of 1,200 words and more.
The texts should be coherent, create the right context and make use of the keywords, their synonyms, and variations. Try to use relevant keywords that have a volume of at least 400 a month. Make use of them at around 1% in the text. Don't overdo it because Google understands syntax, so you can't just overuse them.
"In order to bring you to the first google page and rank with in the first 10 results you will need to use my complete SEO affiliate secret affiliate funnel."
Step number 3 – Google analytics and Google search console
You must be hands-on all the time to know what is happening on your website. In order to do that, connect your website first to google analytics. Track how much traffic your site gets, and monitor bounce rate and users' behavior on the different pages. A second Google invaluable tool is Google console which lets you know in which words you rank in which position in Google (and many more other features). Once you know in which place you are ranked with your keywords, then you will know in which words you made it to the first page and on which keywords you need to work on ranking.
Step number 4 Google titles and google snippets
Make sure you use the relevant keywords in the titles (H1, H2, etc.) and page descriptions. This is crucial for the search engines to crawl through your website and show results for users that look for these keywords on the different search engines (mainly on Google).
Make the google title with this tool SEOMOFO. And then, check the quality of your google title and snippet with SISTRIX.
Step number 5 online reputation
Create an online supportive environment that will support your landing page, feeding it with organic traffic. Google ranks your landing page according to the incoming traffic also from social media channels. You must be active on the social media channels you own. Post about your landing page on Facebook, Instagram, LinkedIn, Reddit, etc. Use the tools you own and then exhaust further channels like relevant Facebook groups, Linkedin groups, Reddit subs, etc. Not only that it will help with your Google ranking, but also drive traffic to your website, bring you paying customers, and position you as an expert.
Step number 6 backlinks
Get backlinks to your website – as many as possible. Backlinks are very important for SEO, they boost your website ranking. You need to get backlinks from websites with a DA (domain authority) higher than your own (must be a DA higher than 40). Google will rank your website according to the number of backlinks you have and how the website is relevant to users visiting your website. Use also an SEO checker to know where you stand.
There are a few options how for creating backlinks:
Backlinks buying – there a few service providers that will sell you backlinks. If you would like a recommendation, just email me, and I will refer you to the best backlink-buying companies.
Backlinks exchange – get in touch with websites and offer to write an article, or they will post one of your existing articles. In return, offer to publish on your website one of their articles.
Exchanging backlinks is a great way to promote websites without paying any money.
Guest post – many bloggers and websites receive guest post requests. Best first to try to exchange backlinks, but if not accepted, you can offer payment to publish your article. You get traffic and a backlink, which will improve your page ranking. Do make sure that the website has at least a domain authority of at least 40. The higher the domain authority is it makes sense to pay.
​​​​​​​
​​​​​​​Summary
I know it is a lot to take in, and there are many action items to start working on. If it is your first time doing SEO, you have got here the best Google 2019 search engine optimization complete resource list, so start diving into the details. I have been into SEO for many years already and know that you have to work through the list implementing this all on your new website.
After doing that, monitor your website with google search console. You can see with this tool which words you will need more work to push your keywords up the ranking ladder and for which words you got already have clicks, free builderall trials, and builderall paying customers.
For any questions or advice, please contact me.