SEO your Builderall website for organic results
If you want to start your online business today, one of the best and cheapest ways to get started is with Builderall. It is a great website builder software that gives you everything in a one-stop shop. This includes all the information you need to create your website, and on top, it helps understand how to build sales funnels that will generate leads and sales.
So if you are looking for a money-making website as your main business or you are looking to make a small passive income, Builderall website builder is one of the best value for money (see here All you need to know about the Builderall Free Trial) in the industry. I built this website with the Builderall platform, and I see good results also in SEO (search engine optimization) terms. I rank second place for the keyword 'SEO Builderall'. See pictures from a Chrome incognito search.
We at Builderall Wiz would like to give you SEO pinpointed assistance and walk you through a step-by-step Builderall SEO guide to rank your website on Google without putting extra money into paid traffic.
Chose a good SEO domain name
Competition research Search tools – Google search and similarweb
Keyword research – Uebersuggest and Google Ads keyword planner
Text writing and on-page SEO
SEO tools of Builderall + Video
Backlinks
Connect to Google Analytics and Google search console
#1 – Chose A SEO Domaine Name
Choosing a name for your website will be your first step. If you have a specific product or service, it will be best to include the main keyword that describes the product/service/app in the URL. It will help your SEO results. It is not a must, but it is preferable. In regards to the ending, I would say a .COM ending will be best as it has the best reputation and is the most known ending. But again, it is not a must and could be a good start.
So first go www.joker.com or godady.com and buy a domain.
#2 – SEO Competitive Analysis
The research step is crucial for your success. You need to take at least 5 hours to study your competitors and learn how they operate. Good websites invest a lot of time in money in how they visually look, their UX (user-friendly), sales funnels, and keyword usage. It is all public information. So you just need to figure out what they did in order to succeed as well. Imitate them, but don't copy them!
SEO Online Research Tools ​​​​​​​​​​​​​​
For your online research, you will need 2 free tools: Google searches and similarweb.com.
Google Search – Search Example
So I am just going to go with an example showing an entrepreneur that wants to put together a landing page or a website that sells waterproof mobile phones.
So the first place to go to will be Google search (make sure you Google chrome incognito). Type in your main keyword – waterproof mobile phones
Now I know who my competition is for this keyword! So, we have a blog, magazines, and an e-commerce site. If I want to sell mobile phones, it is quite clear from this search that there 2 viable options; a blog (tomsguide) and an e-commerce site (91mobiles). So first, you have to decide which kind of website you would like to be, and then just learn everything you can from these websites that rank on the first page on Google. Take your time researching them (keywords, design, UX, funnels, etc.). When you build your website, do your best that your website will be similar to the example you chose.
​​​​​​​
Similarweb – Search example
Then go to Similarweb to collect more information about the websites you are looking into right now. Find out which are the main organic keywords that bring them results. Then later, use these words in your copy.
Also, on Similarweb, you can find more websites that are similar to the ones you are looking into. Take also advantage of that feature on Similarweb and learn more about them before you build yours.
#3 – Keyword Research For SEO – Free Tools
Your keyword research is essential. Before wiring the texts for your website, you have to know the search volume of keywords people are actually looking for.
I would recommend 2 free tools for this – Google Ads keyword planner and Ubersuggest free keyword tool.
Let us stay with our example – waterproof mobile phones.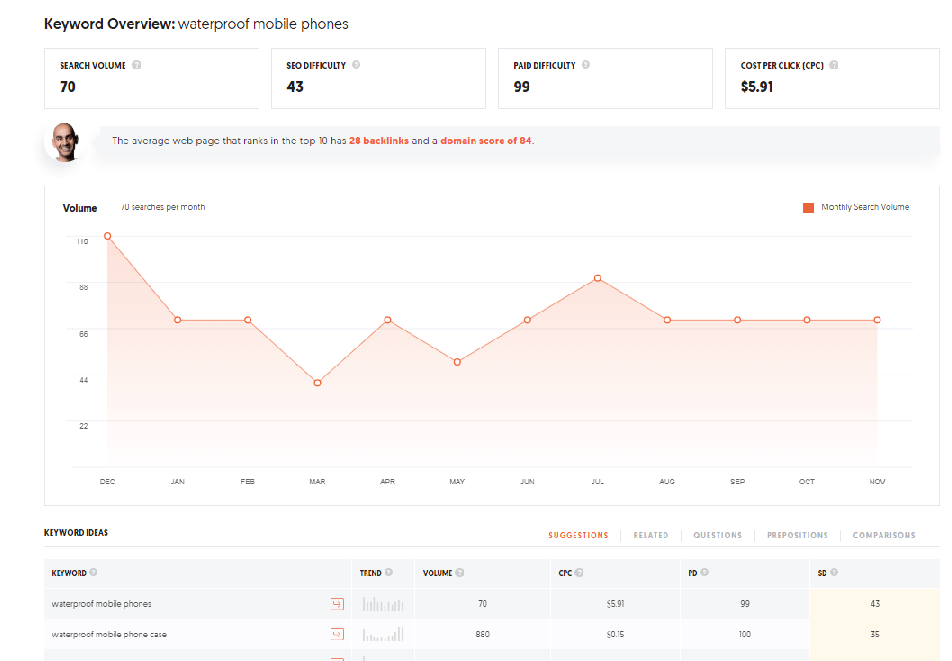 So we get to see here the volume of searches – 70 in the United States. And the interesting bit is that we get new ideas for further SEO keywords we need to use in our texts.
Also, the Google Ads keyword planner will give actual results of search volume and ideas for new keywords. From my experience, it is good to combine to the usage of both tools.
In our example here above, we found further relevant keywords: 'waterproof mobile phone case,' iPhone 7 waterproof, waterproof phone. So we now know their search volume and can decide if and how to use them in our text and landing page.
#4 – Search Engine Optimization Writing For A Builderall Website
Google likes relatively long texts. So if you write a post or a product description, make it at least 500 words. Use your keyword a few times in the text but don't overdo it. Research of different online marketers proved that usually, texts with over 1,200 words get the best rankings.
A few other things you have to make sure of are:
​​​​​Place your main keyword in the:
URL slug
H1 Title (main title of the page) of the post/article
At least once in the H2 title (secondary titles)
At least once in the first 100 words of the paragraph
Also, when doing an Alt text for a picture, use at least in one picture.
#5 – Video – SEO Title, Meta, and Keywords
#6 – Backlinks SEO
According to leading SEO experts, one of the most important actions you need to take in order to rank your pages higher is to get backlinks pointing at your website. This is a complicated action item for new businesses. The way to go about it is to list your business in local directories, write guest posts, be included in roundups, and more. If you are just an SEO beginner, I would recommend listing your business in the directories on your own and, for the rest hiring an SEO agency.
#7 – Google Analytics And Google Search Console
An ongoing part of the SEO process is to optimize on a weekly basis. To do so, Google helps you collect information from your builder all website. First, go to your google analytics, and the google search console generates the tags and then places them in your builderall website.
Look for the SEO setting and put your Analytic tag as shown below.
In regards to the Google search console – follow the explanations here https://search.google.com/search-console/about, and then submit your website in order to index your website to Google to be crawled on a regular basis. You will need to submit an XML sitemap to Google console. See the explanation here https://support.google.com/webmasters/answer/7451001 ​​​​​​​
Check Your Work – Builderall SEO App to optimize SEO process
As you can see, I got an excellent SEO score from the Builderall SEO App checker. Use this great SEO app to learn what you can do better
and improve the SEO (search engine optimization) of your website. I got an A score from the app, and if you follow the 7 step-by-step [2019]
SEO guide I put here together, you will get an A score and good ranking results.
>> LEARN HERE EVERY YOU NEED HOW TO PROMOTE WITH SEO THE BUILDERALL AFFILIATE PROGRAM​​​​​​​​​​​​​​ AND MAKE PASSIVE INCOME